Our Bulk products are available for delivery Monday to Friday. Call Dutton Builders Merchants. 01606 738491 during opening hours 7.15am. to 16.45pm.
A Saturday morning delivery is possible if a slot is available 8.30am. to 12.00pm.
CAUTION Please NOTE that products may be delivered using large heavy vehicles it is your responsibility to ensure good levels of access. If a vehicle cannot gain access and make a delivery you will be required to pay the cost of transport. In addition any damage caused to drives etc. by the weight of these vehicles are your responsibility a fully loaded vehicle can weigh up to 42 tons fully loaded and in very rare cases this can cause damage to underground pipes etc.
Delivery requirements
IMPORTANT: PLEASE DO NOT PLACE AN ORDER IF YOU ARE NOT CONFIDENT THAT THE DELIVERY LOCATION COMPLIES WITH THE FOLLOWING REQUIRMENTS.
The delivery vehicles we use can weigh up to 42 tons fully loaded and requires sufficient space for products to be unloaded. (SEE DIAGRAMS 1. 2. 3. 4. Below.)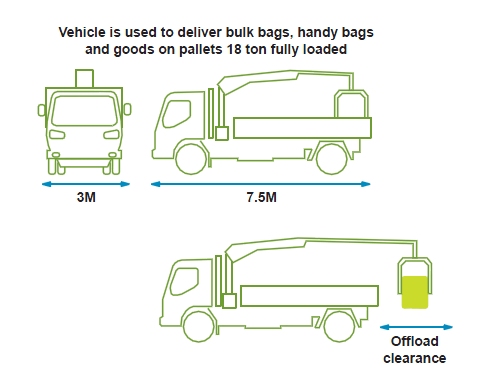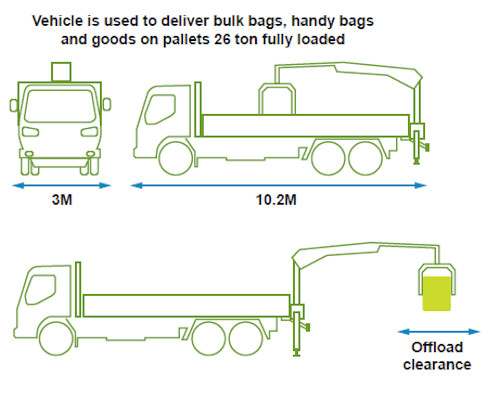 Deliveries will not be made where the ground condition is uneven, not suitable to unload or likely to cause damage to the vehicle.
We will not leave products on public property unless written consent is provided by the relevant authority confirming agreement of delivery to location.
A signature is required on delivery. However, goods can be left without being signed for when a prior arrangement has been made between Duttons Builders Merchants and the customer. Duttons Builders Merchants will not accept responsibility for goods which are stolen after they have been delivered in accordance with prior arrangement.
NOTE: Deliveries are to kerbside only and orders will be cancelled if the delivery vehicle is unable to safely access the delivery location.
IMPORTANT: You will be liable for charges if the above delivery requirements cannot be achieved and your goods cannot be delivered.